WORLD MAKER FAIRE-CUSTOM BRANDED EXPERIENCE
​
To promote Nickelodeon's new TV Show Gameshakers, Collab created an immersive and interactive experience for Nickelodeon at Maker Faire at the New York Hall of Science.

The goal was to create a customized activation where kids could learn and explore the art of video game design and the science of computer programming. This theme went along nicely with promoting the new series Game Shakers, and fit well with the culture at Maker Faire.
WHAT WE MADE
​
Donut Dash, a custom branded experience where kids create their own character, place their character into a robot and see their character come to life.
Our team worked together to create a user experience which would incorporate all aspects conveying the early stages of game development. In order to engage the visitors to the booth we wanted to develop a strong link between the physical and digital world. The software was developed with all of these aspects in mind. We combined game mechanics with simple computer programming ideas and turned the experience into a fun interactive game.
THE ACTIVATION
​
Kids visiting the booth were given a branded worksheet to create a unique character. The worksheet was designed so kids could draw a character, and then learn fundamental computer programming elements.
After the kids were finished drawing and coloring their character, they would head over to the video game stations where Game Shaker staff helped them activate their programmable paper to see their characters come to life. Once the paper was placed in the robot kiosk, the child would see their character scanned into the Donut Dash Game Shaker game.
Interacting with their own creation was powerful for the kids. After they played donut dash using the character they created, that character would appear on a large screen so all the other kids in the booth could share in the creation.
The kids were then directed to a print station where a photo of their character was spit out through a slot in the brick wall and inserted into a branded Game Shakers notebook. Each child was able to take home a Game Shaker's branded notebook with their character on the cover.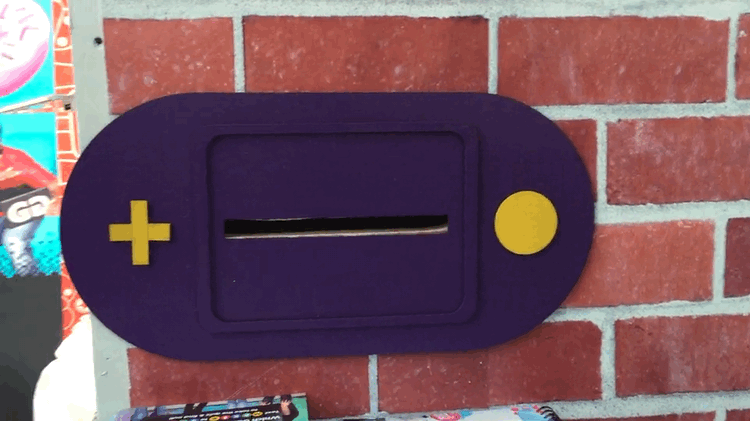 Kids got to relive the experience once again as a link of their individual character, as well as all of the other characters created at the booth, were sent to their parents via email a few days after the event.